This month's T-SQL Tuesday asks us to explain a concept like the audience like they are 5 years old. I've decided to literally do that.
Do you like jelly beans? I like jelly beans. Imagine if you had a big, big bowl of jelly beans.
How many jelly beans do you have? Can you tell by looking? I think you would have to count and it would take a very long time. Well, computers are good at counting! We could teach a computer to count our jelly beans and tell us how many Jelly beans we have. Using a program called Power BI, the computer can tell us we have 800 jelly beans! That's a lot of jelly beans.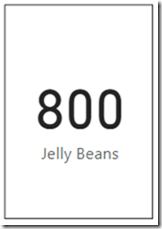 Do you have a favorite flavor of jelly beans? I really like the pink ones that taste like bubble gum.
What if we could tell the computer to count by flavor? We could then see how many we have total and how many by flavor.

Wait a minute! We have a bunch of cinnamon jelly beans, ew. I can't stand cinnamon jelly beans. I will probably give them to my mom. I want to hide the cinnamon jelly beans, to see how many tasty ones I have. We can add a filter to look at specific flavors.

We can even add categories of things, so we don't have to remember which flavors are good and which flavors are bad.


Oh good, we have 700 tasty flavors and 100 gross flavors. Okay, I want you to imagine one more thing. Imagine instead of one bowl of jelly beans, you had 100 jelly bean dispensers and you owned a whole jelly bean store!
Well now we *really* need a computer to count everything. We want to know when a dispenser is empty. We want to know which flavors are most popular. Some people actually like cinnamon jelly beans. Gross! But if you own a store, you have to buy and sell the flavors people want.
Power BI is a program that helps business owners count everything going on in their stores. It helps them count everything but also let's them look at little details like a single flavor or a single dispenser. Power BI helps store owners make more money and sell people's favorite candy!