Two years ago I quit my job and started working for myself. After two years, I think most people would look at it as a big success, I'm now finally able to make a stable living doing what I want. As we enter a recession, I know a lot of people would be grateful to be in my position.
But I'm also vaguely dissatisfied, because the past two years have have been an unfocused 24 months, running around putting out fires and trying to pay the bills. After 4 years of work, Pluralsight revenue pays a reasonable salary and I can take a peaceful vacation. When I come back from my cabin trip next week, I'm hoping to have a better idea of what the next 4 years will look like.
Four years from idea to full-time income
Four years ago, a friend convinced me to think bigger and in March 2016 I applied to be a Pluralsight author. I have never spoken at any large conference, I didn't have any impressive credentials, and I didn't expect to be accepted. But it turns out the hard part isn't getting your foot in the door, but getting your audition approved. Imagine doing a recorded lightning talk that has to convey a technical concept but also tells a story.
It took about a year to go from starting the audition to getting my first course being published. A lot of this was delays from underestimating just how difficult it would be to make my first course, taking 140 hours plus some outsourced editing. All of this was during nights and weekends while working a full time job.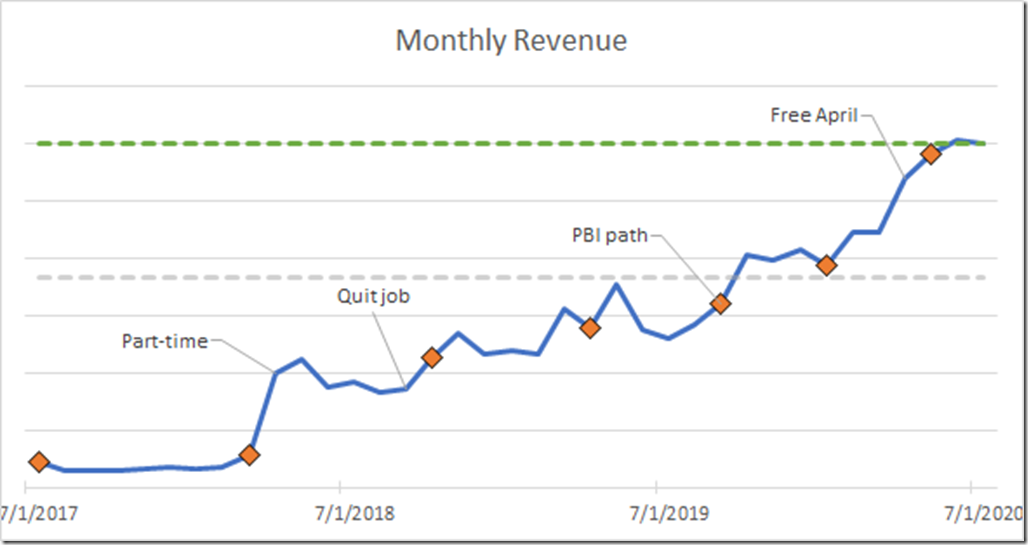 The chart above is the 3 years it took to go from first course to full-time income. And while I can't share exact numbers I've got two dotted lines there. The first one, in grey, is the bare minimum I would need to make, in addition to my husband's income, to cover our minimum expenses. This includes paying $900 per month for our own health insurance.
The green dotted line is what I'd need to make to cover our expenses and live comfortably here in the Greater Pittsburgh Area. Additionally each orange dot is a new course being published. I've also labeled when I went part time, when I quit my job, when the Power BI learning path came out (with 5 of my courses in it), and the Free April promotion that brought in a lot of new users.
Two years of juggling and struggling
I think one of the key takeaways from the chart above is it took nearly a year of working for myself before my courses could cover by base expenses, and another 8 months before I could finally breathe and not worry where my next paycheck was coming from. During that time, I was trying to do consulting jobs to pay the bills, while completing the next course.
The whole of is chart is punctuated by moments of luck and risk. I was lucky that my second course, on DAX, was enough of a hit that I was about to go part time. It was a big risk quitting my job, since it took a year to get somewhere stable. Both times I hit one of those financial goals were because of an external event. The first was the release of the Power BI learning path, which increased viewership. The second was the FreeApril promotion, which brought in a lot of new viewers, many of which wanted to learn about Power BI.
Success comes from rhythm and routine
The reason I feel dissatisfied is that success comes from rhythm and routine. When you work for yourself, you are the only person rowing. You are the only person blogging, speaking, marketing, etc. And either you find a weekly routine that keeps you going through the difficult times or you will struggle and have moments of no momentum.
In retrospect, trying to do consulting and content creation at the same time has been a great way to diversify my income. As we enter a recession, I see the consulting work drying up and at least one friend going back into regular employment. But it has been challenging balancing the two. Consulting work is all hurry up and wait. Content creation is a slow and steady focus. The two always seem to be in conflict.
I never quite hit a solid rhythm and with Coronavirus happening, all of my extracurricular activities have stopped. No newsletter, no blogging, no presenting. I think this has happened to a lot of people, and I admire the folks who have been putting out weekly content during a global pandemic. When I come back from my vacation, my biggest priority is starting up a new rhythm.
Would I do it again?
I would absolutely do it all over. I wish I had been smarter about some things, but the hard part is over. I don't need to worry about being fired, or losing my job during a recession. I've been able to visit my mom three days a week without worrying about an angry boss or work conflicts.
So am I going to keep consulting? Yes! I think that being a full-time author runs the risk of losing touch with the technology and where things are going. Consulting forces you to be grounded. I think doing a blend is great when you can do it, and awful when you are still figuring it out.